Do you know the difference between SRW and DRW? SRW stands for single rear wheel and DRW stands for dual rear wheel. Ford trucks like the Super Duty F-350 are available in both SRW and DRW, so you can pick the truck that suits your lifestyle.
The reason both options are offered boils down to stability and payload capacity when towing. If you
plan on towing heavy payloads
like RVs, boats, or horse trailers, DRW is the way to go. "Duallys," or dual rear wheel trucks, offer a higher gross vehicle weight (GVWR), which contributes to a higher towing capacity.
It's easy to feel the difference between SRW and DRW when you're behind the wheel. Riding in a DRW is a much smoother ride, especially when experiencing rough terrains and strong winds. Though, t
here is a never-ending debate in the truck world about whether a SRW or a DRW drives better. While payload is a consideration here, 
setting up a test drive
, or having Damerow Ford bring the truck to you for a 
remote test drive
, may help you gauge this in your situation. 
Ford Super Duty
As of 2018, the
new Ford Super Duty
line of pickups 
comes with standard AdvanceTrac 
with Roll Stability Control
 and Trailer Sway Control. You can find both of these new Ford features on both SRW and DRW models. Both systems use gyroscopic sensors and apply reduced engine power, combined with selective wheel braking, to help maintain the stability of the truck and what you are towing. 
The Super Duty line also now comes with a 
military-grade, aluminum-alloy body making it both ultra-light yet still just as durable as ever. Plus a slew of other features, which vary by the class of Ford pickup you are considering, but can find in most full-size models:
Factory-installed hitch built into the frame
Trailer reverse guidance system (like a back-up camera for your trailer)
Larger fuel tanks in both the 6.2L gas V8 and the Power Stroke

®

 Turbo Diesel V8

5th-wheel package (4x4 models only)
Tire pressure monitoring system, for both truck and trailer
Diesel engine-exhaust braking - perfect for hauling heavy loads down steep hills
Adaptive cruise control with collision warning system.
Upfitter switches for connecting aftermarket accessories such as a winches, lights, strobes, and two-way radios.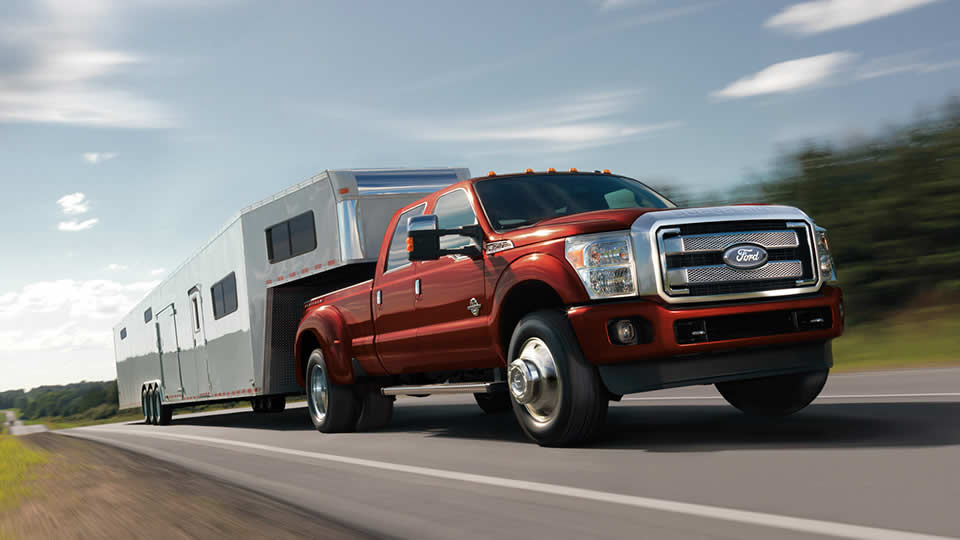 Should I buy a DRW or an SRW?
It all comes down to lifestyle. Do you use your truck to tow heavy payloads? Or do you mostly just pile work gear in the flatbed? The following points address the benefits of SRW and DRW trucks.
Advantages of a Single Rear Wheel Pickup?
Great for towing small payloads

Perfect for transporting materials in the flatbed

Stable driving in cities, suburbs, and highways
Advantages of Dual Rear Wheel Pickup?
A must-have for towing heavy payloads like trailers

Provides extra stability for driving through rough terrain

Added stability means less risk of items falling from flatbed
Drawbacks to a Dual Rear Wheel Pickup?
You have 2 additional tires to purchase when changing them, plus there are additional tire rotation considerations.

Built for ranch & rural living; tough to drive in a city - drive-thrus, parking, tight city streets.

Miles per gallon, especially city driving, is reduced.