The Long-Awaited 2019 Ford Ranger

The 8-Year Homecoming
The Ford Ranger is back!

The 2019 model is revamped with a modern design, loaded with off-road and safety features, and engineered to perform and look like its pickup truck brother, the F-150. After 8 long years since it's hiatus back in 2011, truck lovers can rejoice about this promising comeback.
First Impressions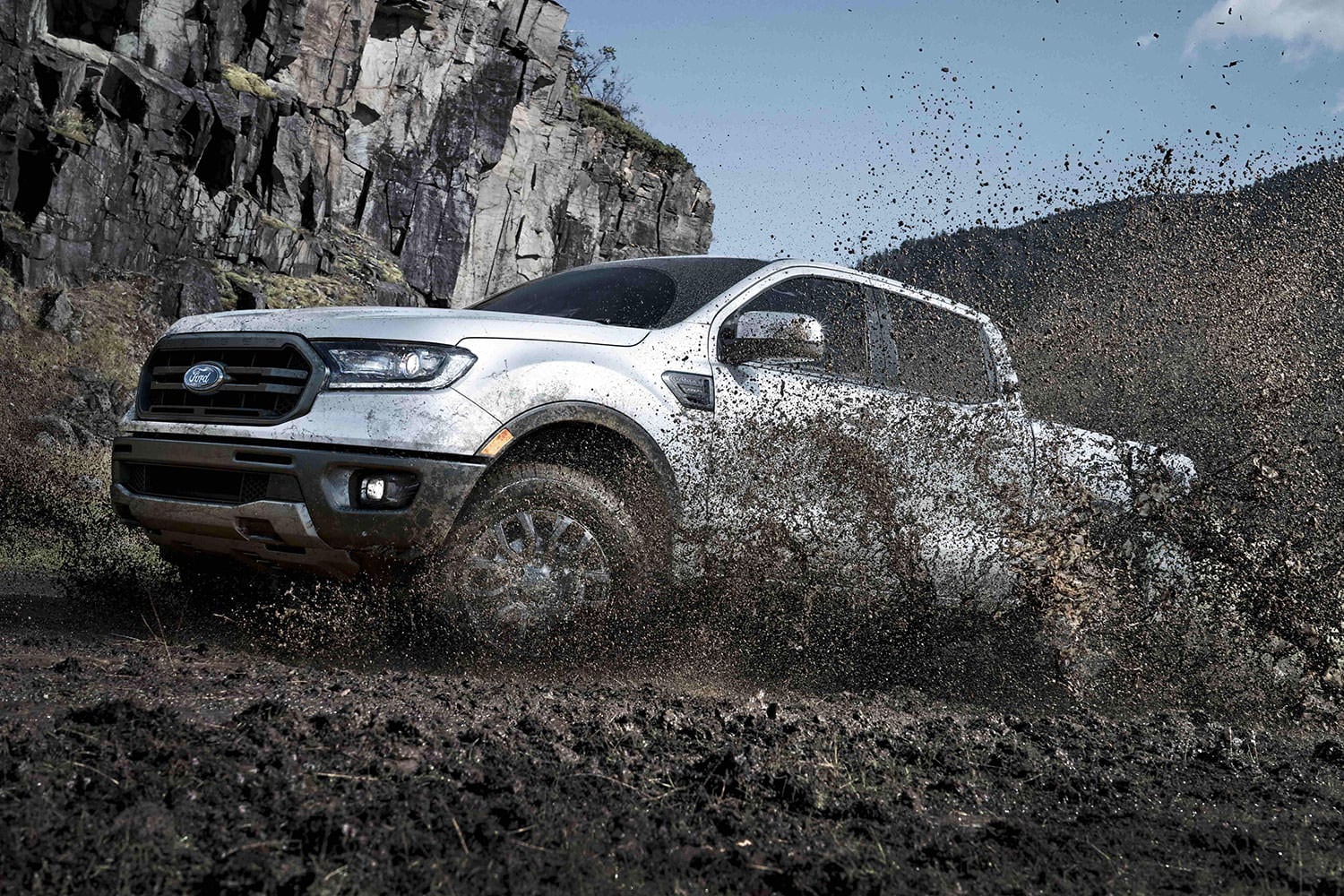 The
2019 Ford Ranger
is the best-selling pick-up truck in Europe and the second best-selling pickup globally. That alone is a testament to the fact that Ford knows it way around a pickup. With that expertise, they went all out on the new Ranger to create an exceptional midsize pickup for the modern American truck driver.
The 2019 Ranger has been described as "the truck for the urban driver who balances city living with off road adventures." It has a fully boxed frame that gives it a rugged athletic look. The hood, front fenders, and tail gate are aluminum-based while the rest of the truck is built with solid steel. Beneath all of that toughness, this pickup comes with an impressive range of comfort and convenience features, driver assisted technologies, and a myriad of innovative safety features. 
All in all, the 2019 Ford Ranger is a piece engineering excellence that was built for adventure.
Vehicle Specifications
Trims & Body Styles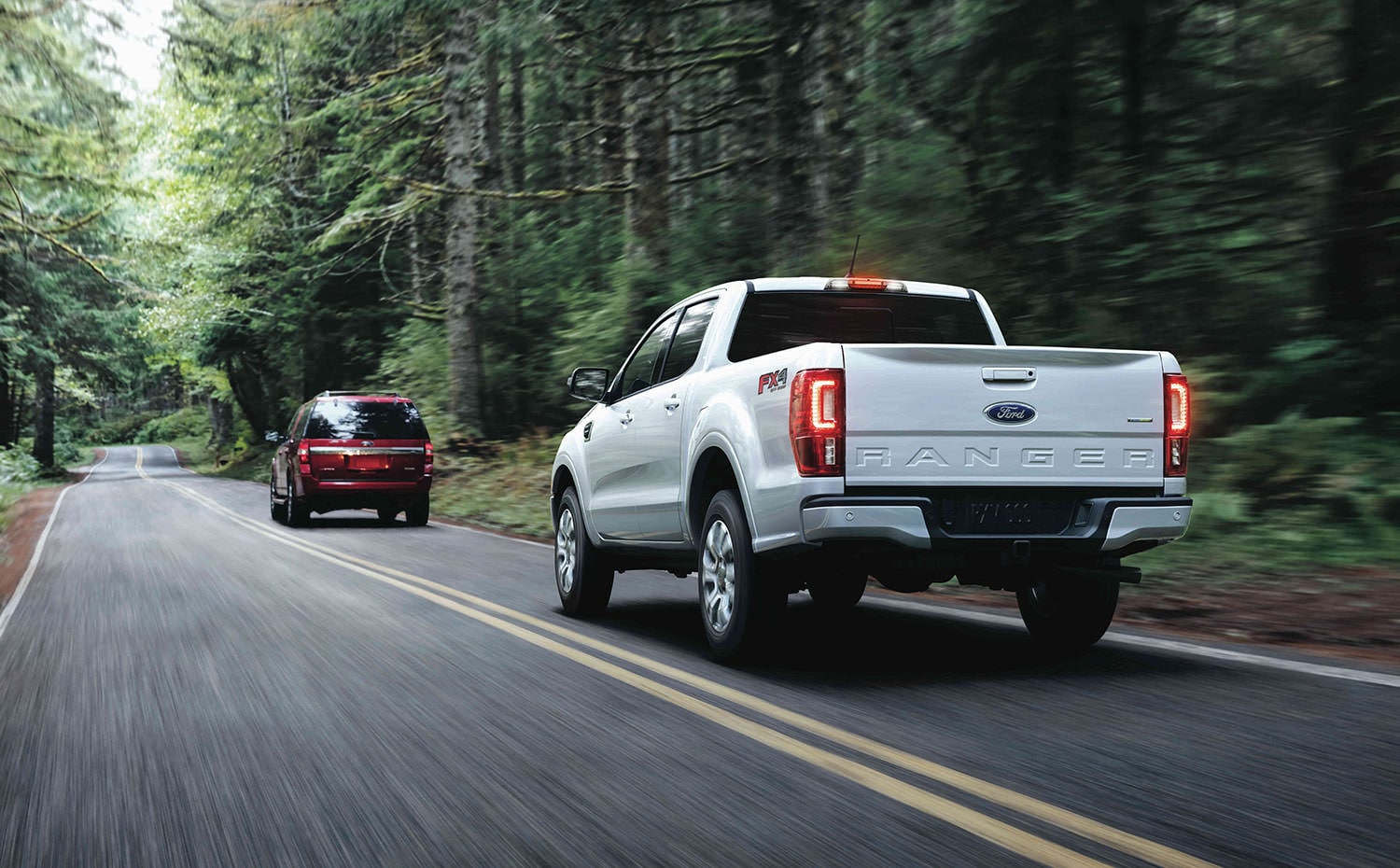 The 2019 Ford Ranger comes in 3 trim levels; the XL, XLT, and Lariat. XL is the standard base model, the XLT is the second trim level in the hierarchy offering mid-level features, and the Lariat is the high-end version. 
The 2019 Ranger is available in 2 body styles; the SuperCab and the larger SuperCrew. Both models are of similar length and width with a slight difference in height. The major differences are found in the SuperCrew, which has a longer bed and extra pair of standard rear doors.
It also comes in 2 different configurations: the 2-wheel drive (2WD) with a rear-wheel drivetrain (RWD) and 4-wheel drive (4WD). The RWD gives you increased acceleration and better balance and handling than front-wheel drives (FWD). Whereas the 4WD rotates all four wheels at once, which is great for overcoming muddy rocky terrains. There is also an optional but standard DANA electronic locking rear differential for both.
Powertrain
The Ford American Ranger has one powertrain option; a 2.3-liter 4-cylinder EcoBoost® engine with a 270 horsepower and 310 lbs. of torque. The truck features a new 10-speed automatic transmission with no manual controls.
When it comes to transmission, the 10-speed automatic sweeps the 6- and 8-speed manual and automatic transmissions of its rivals. Apart from the Chevrolet Colorado 368 torque, the Ranger easily passes the rest in this area.
Payload & Towing Capacity
The Ranger is well ahead of its rivals in terms of hauling large and heavy items. It is capable of handling as much as 1860 lbs. of payload (844 kg) capacity with a maximum towing capacity of 7,500 lbs. (3,402 kg).
To put in comparison, 2019 Chevy Colorado can tow as much as 7,700 lbs. but it has an underwhelming payload capacity of 1,500 lbs. The payload capacity of the 2019 Toyota Tacoma and 2019 Nissan Frontier is even less impressive at 1,295 lbs. and lower towing capacities at 6,700 pounds and 6,710 pounds, respectively.
Dimension & Size
As a midsize pickup, the 2019 Ranger provides maneuverability for drivers who may find the full-size pickups too intimidating to drive. The SuperCab measures at 70.9 inches (1,801 mm) in height while the SuperCrew is 0.9 inches (13 mm) taller. Length and width measure the same at 210.8 inches (5,354 mm) and 85.8 inches (2,179mm), respectively.
Whether you choose the SuperCab or SuperCrew, the Ranger has a wheelbase measuring at 126.8 inches (3,221 mm). When it comes to size, the 2019 Ranger comes in as the second most compact truck, just about 5 inches shorter than the Nissan Frontier, which is the shortest among the Colorado, Tacoma, and Ranger.
Cargo Bed Size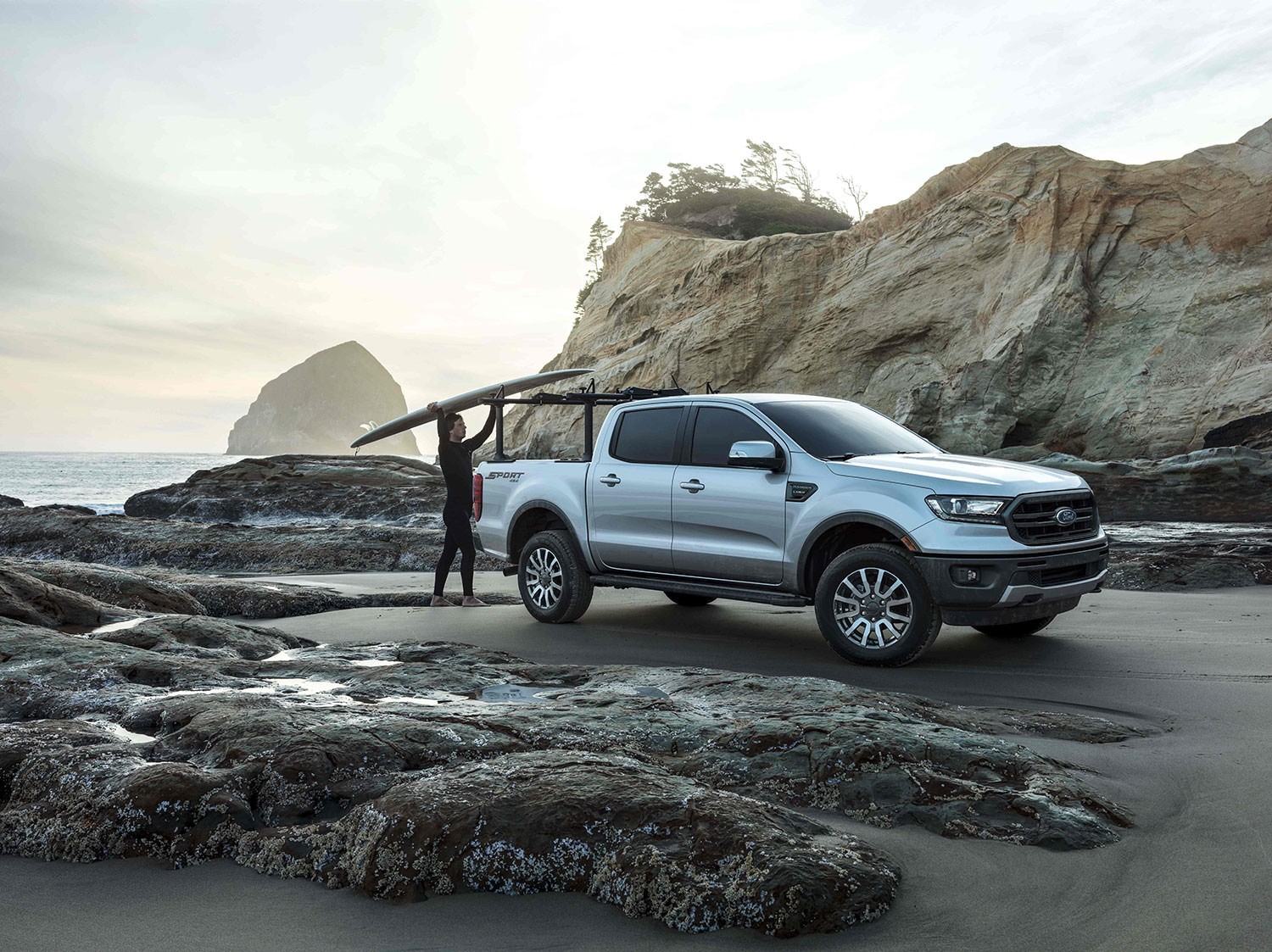 The truck offers 2 cargo bed options: the SuperCrew measures at 5 feet (1.5m) and the SuperCab is 6-foot (1.8m) in length. The beds are separate from the vehicle, but are on par in size with other midsize trucks in the market. 
Fuel Economy
The Ford Ranger is expected to be one of the most fuel-efficient pick-up trucks in 2019. 
Although Ford has yet to release the official EPA certified figures for fuel economy, according to heavy talk in the auto community, the 2019 Ranger will perform well across the board.
City - 21 mpg
Highway - 26 mpg
Combined - 23mpg
Warranty
For greater peace of mind, the 2019 Ranger will offer a generous warranty coverage:
Basic warranty: 3 years/36,000miles
Corrosion perforation warranty: 5 years/unlimited distance
Powertrain warranty: 5 years/60,000miles
Roadside assistance coverage: 5 years/60,000miles
Impressive Interior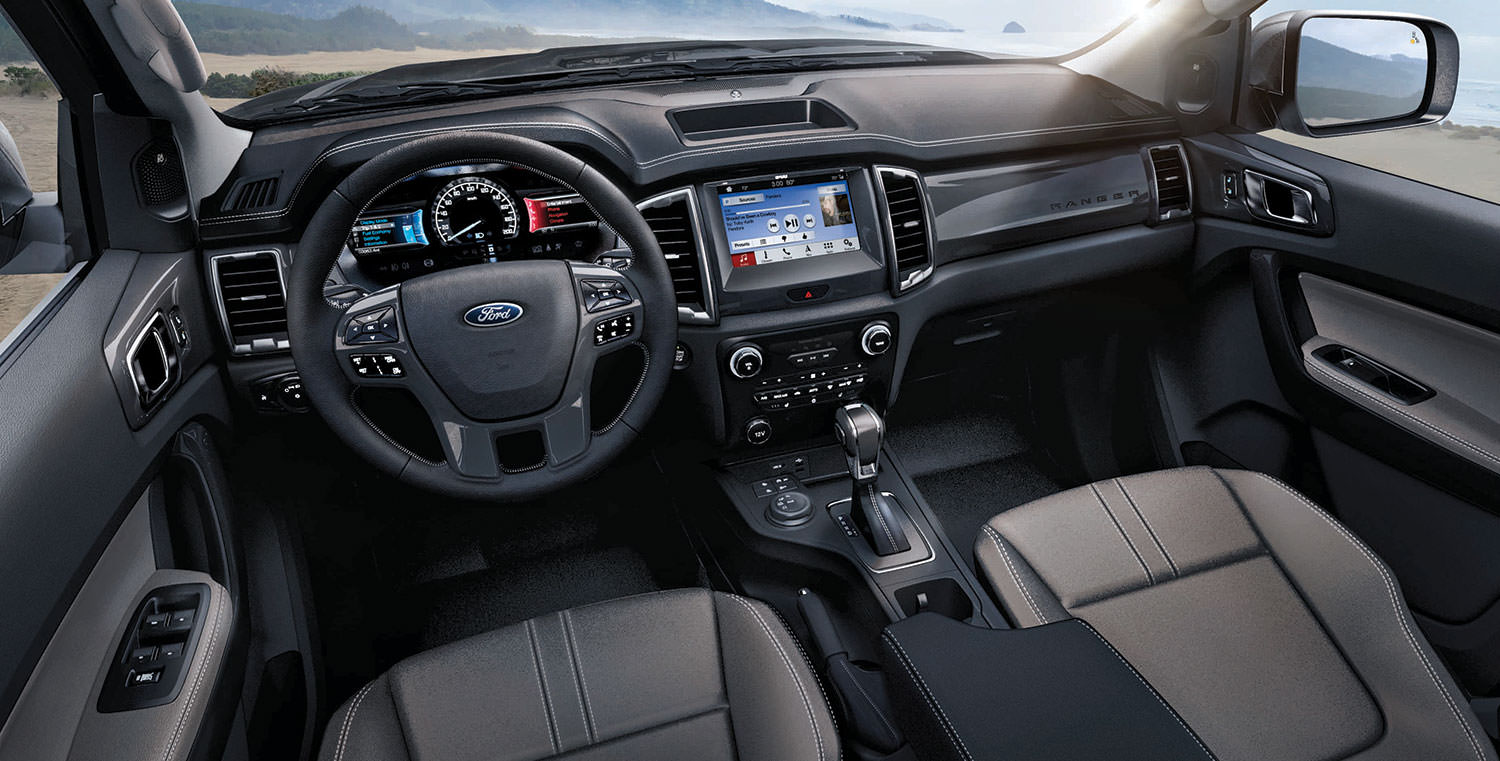 The interior of the all-new 2019 Ford Ranger offers a trifecta of convenience, comfort, and functionality. Equipped with an expansive set of amenities along with safety features, you're guaranteed to stay entertained and connected through every drive.
Technology Features
The Ranger's available amenities include a Sync 3 infotainment system with an 8-inch center touchscreen with Apple CarPlay and Android Auto smartphone projection system, a navigation system, and satellite radio. Add-on features include mobile Wi-Fi Hotspot and 4G LTE connectivity with support for a maximum of 20 devices accessible up to 50 feet.
For on-the-go connectivity, you can download the phone app, FordPass™. It sends vehicle health alerts, grants access to roadside assistance, and provides you all of the safety features from SYNC® Connect - remote start, lock and unlock, find vehicle location, and more.
Seating
The 2019 Ranger has a seating capacity for either 4 or 5 passengers, depending on whether you go with the SuperCab or SuperCrew. Compared to the SuperCab, the rear seat in the SuperCrew has an armrest and is slightly wider with more legroom. The rear seats also have a waterproof under seat storage for extra cargo. The luxurious Lariat trim level comes with leather upholstery with an 8-way power adjustable front seats for extra comfort.
Safety Features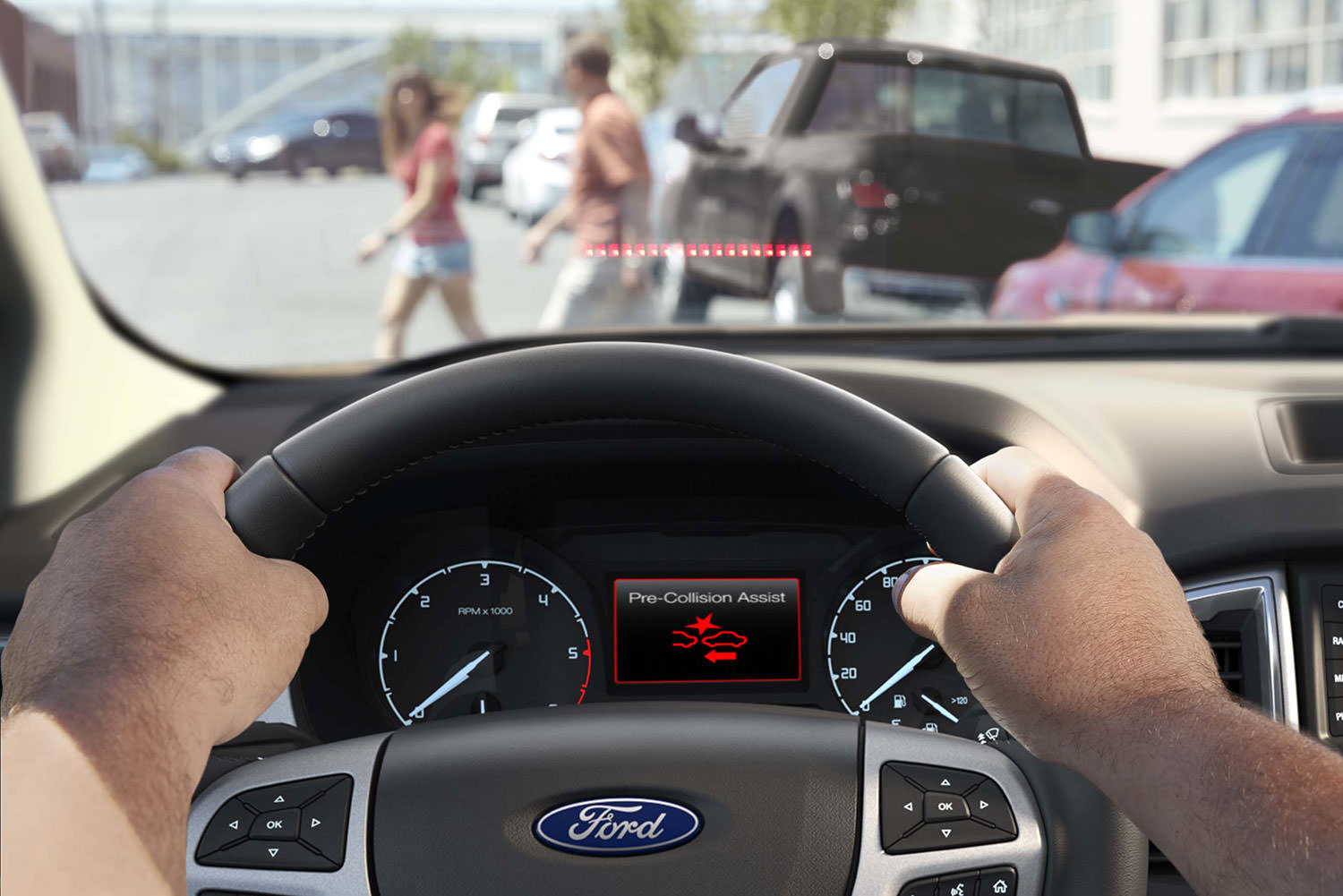 Driver Assistance Systems
This high-tech truck offers an extensive range of active safety features and driver assist technologies for a more responsive and convenient drive, including:
Pre-Collision Assist with Pedestrian Detection for scanning the roads and alerting you both visually and audibly of potential collision risks (only available in Lariat trims).
Automatic Emergency Braking (AEB), which alerts you when there is a small distance between you and the car in front of you and increases brake sensitivity for quicker and harder braking force.
Blind Spot Information System with Trailer Coverage, which monitors blind spots through the truck's taillights for safer drives and tows (available in XLT and Lariat trims).
Rear Cross Traffic Alert to alert you of oncoming vehicles when backing out.
Adaptive Cruise Control (ACC) that speeds up or slows down in order to maintain a constant speed and reasonable distance between front and rear vehicles on the road (available on Lariat trims).
Trail Control System for cruise control functionality on off-road environments. 
Lane-Keeping System, which uses the windshield's rear-view mirror to monitor lane markings. If the system detects unintentional wandering outside the current lane, it will actively steer the vehicle back to the center of the lane.
FX4 Off-Road Package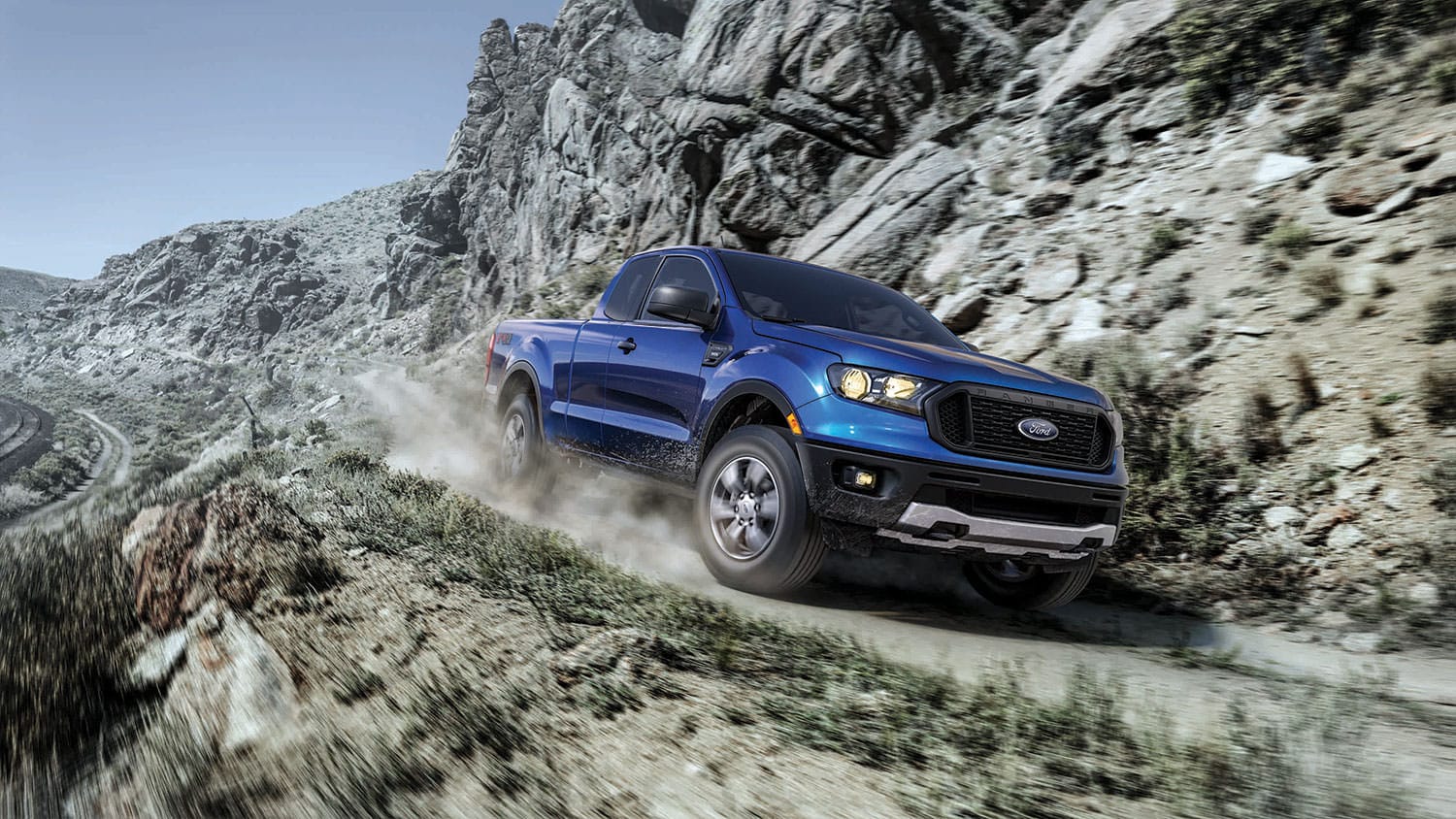 The 2019 Ford Ranger offers an all-new FX4 Off-Road Package with all-terrain capabilities for off-road enthusiasts. The package offers the following unique features:
Protective Skid Plates that are mounted on the frame to protect the undercarriage from big rocks, fallen tree branches and other obstructions on the road.
Upgraded Tires with aggressive tread patterns and off-road trail-rated shocks and suspension.
Terrain Management System, which adjusts throttle and transmission based on the terrains. There are 4 different drive modes: normal, mud/ruts, grass/gravel/snow and sand.
Electronic Locking Rear Differential, which features an electronic-locking rear axle paired with independent front axles and rear axles to improve traction.
Final Verdict
The 2019 Ford Ranger has been specially designed to be one of the most technologically advanced and safest midsize pick-up trucks in the market. 
Running a powerful and efficient engine that rivals V6s in the midsize truck market, built with spartan-like aluminum and steel, designed with comfortable and rich-interior space, loaded with technology and safety assistance features, and equipped with the FX4 Off-Road Package for endless off-road fun, the 2019 Ford Ranger couldn't make a grander entrance.
At
Damerow Ford
, we are the largest Ford dealer in the 5-state Northwest region with the best price and value. That is why our qualified technicians are committed to providing you with world-class service during every step of the car, truck, and SUV-buying process. We also provide auto repair, maintenance, and
financing services
all in the same dealership.